2018 Spring Release Party
April 13-15, 2018 at RiverWalk Resort at Loon
The weekend of April 13th – 15th, we are taking some time out to celebrate the release of our spring wines as part of our Seven Birches Wine Club.  This exclusive event is open to all of our wine club members, barrel club members, RiverWalk owners, and of course, their friends and family.  We appreciate the support you have given us over the past year and we want to bring you all together for a weekend of luxury, wine, food, and fun!  Basically, we've created an excuse to have you come join us for a weekend in an otherwise slow time of year to drink wine with us and to have a few laughs…. to be honest.
We've got a good deal for you.  While you are here, you'll rest in luxury overnight accommodations at RiverWalk Resort at Loon Mountain, the amazing resort hotel where we are located.  If you have not stayed here before, then this will be an extraordinary treat.  We've got special rates for our members and their friends and family.
We'll be putting you to work (kind of).  We have an activity planned, where you'll get hands-on (literally) experience working in our winery.  And… you'll be taking home a bottle of wine that you helped to make.  Cool right?
Party time!  We are going to have a sampling wine tasting of all the wines included in our spring wine club release, along with some food and good old-fashioned face-to-face conversation.  Stay tuned for what will be in the release(s).
What would a wine party be without a special wine pairing dinner at LaVista Italian Cuisine?  We have a delectable 3-course fine Italian meal planned, where each course is paired with one of our Seven Birches wines.  The chef at LaVista and our Winemaker are getting together for the first time to create this unique culinary experience.
Don't worry, we won't wear you out.  There is time built into the itinerary for you to rest, explore, go to the spa, or check out the sights.
Don't forget to take home the 6 bottles included in your spring club release and save yourself the shipping costs.  This is 2 weeks sooner than anyone else will get it by UPS.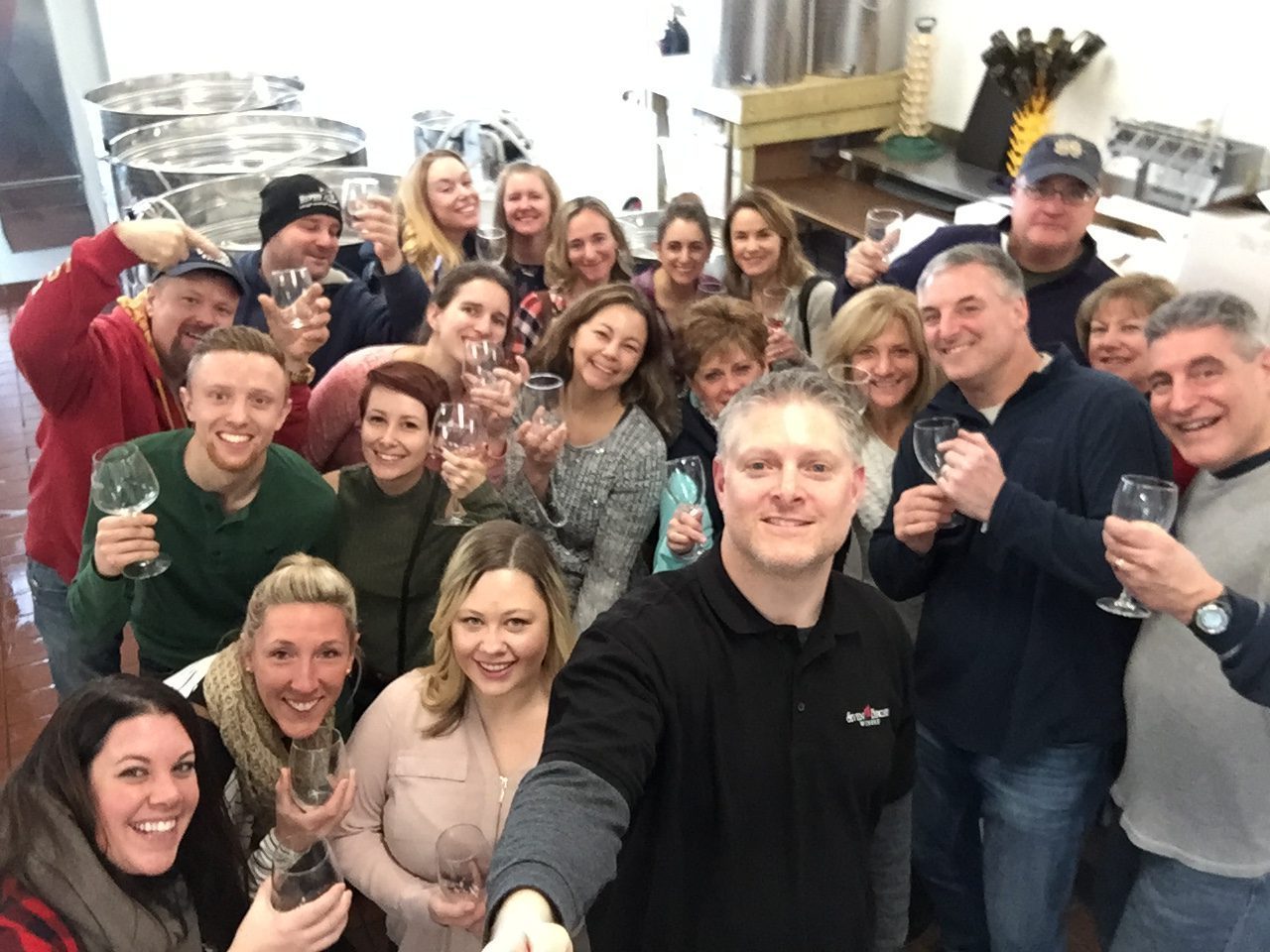 What it Includes
& What it Costs
Prices start at ONLY $198 per person FOR THE WHOLE WEEKEND!  The 2018 Spring Release Party includes all of the following for one package price:
Lodging accommodations in either a studio suite (max 4 persons) -or- 1 bedroom suite (max 6 persons) at RiverWalk Resort.
Winemaking activity in the winery and a bottle of wine that you help to make.
Wine Club Release Party  – a sampling of the wines in the spring release and some nibbles.
3-Course Wine Pairing Dinner at LaVista Italian Cuisine.
All taxes and gratuities included.
Lodging & Package Prices
| | |
| --- | --- |
| Studio Suite (1 adult) | 359.00 |
| Studio Suite (2 adults) | 459.00 |
| 1BR Suite (2 adults) | 599.00 |
| 1BR Suite (3 adults) | 699.00 |
| 1BR Suite (4 adults) | 789.00 |
Weekend Itinerary
as of right now
| | |
| --- | --- |
| Friday, April 13, 2018 | Resort Check-In after 4pm.   On your own for meals/activity. |
| Saturday, April 14, 2018 | |
| 9am – 12pm | Wine bottling activity in the winery.   Dress casual!  Arrive any time between 9 and 10 am. |
| 12pm – 3pm | On your own for some down time.   How about a spa treatment?  Lunch? |
| 3pm – 5pm | Release party.  Sampling all wines in the release.  Appetizers.  Wine pick-up. |
| 5pm – 7pm | On your own again.   Spa treatment?  Nap?  Walk along the river? |
| 7pm | 3 Course Wine Pairing Dinner at LaVista Italian Cuisine |
| Sunday, April 15, 2019 | Hotel Check-Out by 11am.  On your own for meals/activity. |
Special Offers from Solstice North Day Spa!
Perfect for times while you are 'on your own.'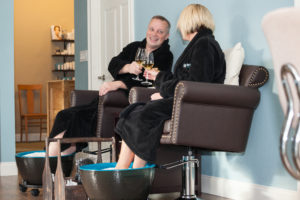 Spring Release Party
While wine club members always have the exclusive benefit of 10% off regularly priced spa services, to celebrate the Spring Release Party we have created a special menu of services for you to enjoy!
Chianti & Grape Seed Body Scrub
Celebrate 7 Birches Spring Release Party with this reviving scrub designed to gently polish the skin to a rosy glow, or shall we say "rosé" glow?
50 min $80
Champagne Facial
An hour and a half celebration for your skin! Begin with a lemongrass back scrub and massage with hydrating vanilla oil, then on to your facial. Skin analysis, cleansing, steam, and extractions topped off with our unique effervescent oxygen mask feeling like champagne bubbles! Hand, foot, neck and shoulder massage add to the luxury of our most popular facial.
90 min $125
French Wine Facial
Key ingredient grape marc contains powerful tannins to restructure the skin through collagen synthesis. This unique tightening mask will decrease visible signs of aging and leave you with a fresh, clear complexion. Cheers!
50 min $100
Chianti & Grape Seed Pedicure
Turn your classic pedicure into a "reserve" pedicure with our chianti and grape seed scrub to soften and soothe your wine stomping feet!
50 min $45
Chianti & Grape Seed Manicure
Our classic manicure becomes grand cru when you add our chianti and grape seed scrub to soften and smooth.
50 min $30
*Wine club member discount not applicable to Spring Release special menu offerings. Appointment times may be limited, we recommend scheduling your service in advance.